Boston Red Sox - Nurse.org Night
In their second year running the Nurse.org night, the Boston Red Sox have more than tripled their tickets sales. Their team equated much of the growth to the powerful social integrations that FEVOGM provides their user and the ability for the Red Sox to monitor and restock their inventory as deadlines approached and tickets were selling out.
How it works
Put tickets onto your group leader's account in your ticketing provider and invite them to the FEVOGM platform. From here they can access powerful tools to promote their outing via email or social media while tracking their sales. Sales Reps can easily keep tabs on performance, manage the reserved inventory and provide support for their group leaders.
"The information FEVOGM was able to provide about my buyers helped expand the night tremendously."
- Gennifer Davidson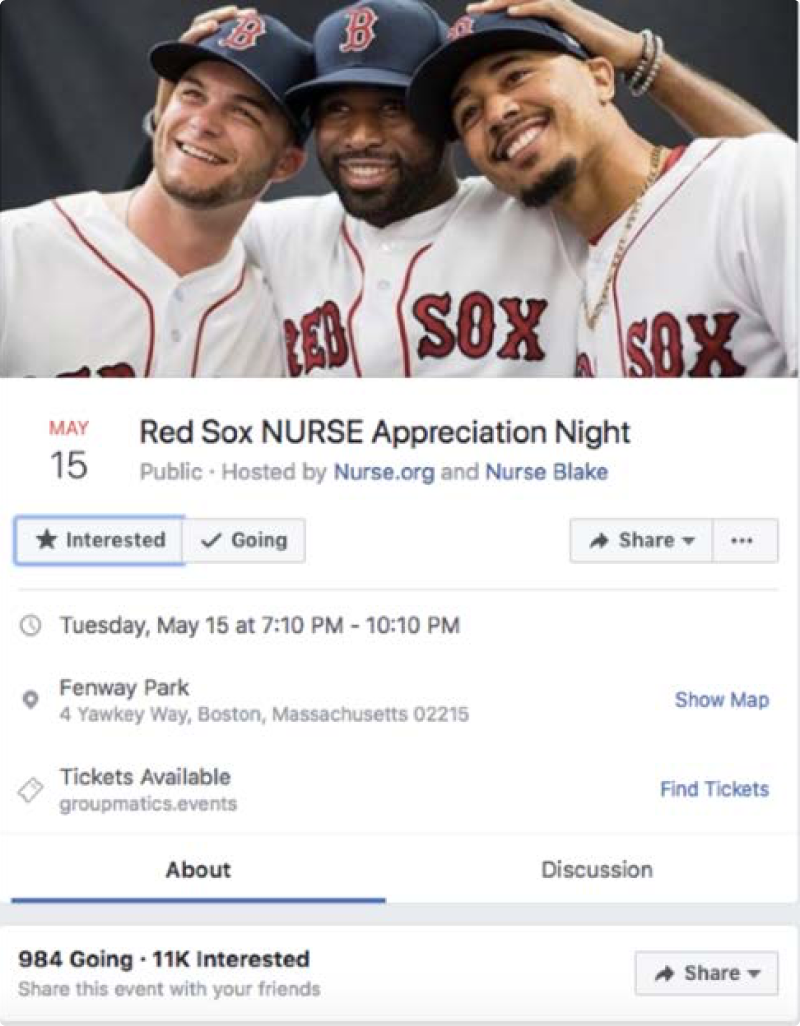 Blood Drive Redemption Program Grows Online
The Orlando Magic partners with OneBlood, a local blood bank, to offer 2 free tickets to a weekday game in March and April to all blood donors at the drive. For the 2017 - 2018 season, Orlando Magic brought this offer online using FEVOGM and grew sales over 3 times for the year!
Previously, the Magic used paper flyers to redeem tickets and entered the data manually into their CRM. With FEVOGM, each donor received a unique discount code valid for 2 free tickets and a link to all the available games for their offer. The donors used the code at checkout to get their free tickets, and, with FEVOGM' software, could also purchase additional tickets in the same transaction. This allowed them to redeem their free tickets and purchase additional seats all next to each other. Additionally, donors were able to opt into more information about season tickets or hosting their own groups during checkout. After the purchase, the buyer received their digital tickets immediately with the FEVOGM-Ticketmaster integration.
This program increased sales, reduced manual effort and generated hundreds of new leads!
How it works
Set up voucher programs with unique discount codes for buyers to receive a set number of free tickets. If they would like additional tickets they will have the opportunity to purchase more at full price. The best part is the buyer can select their specific seats so their discounted tickets and full price tickets can be next to each other, incentivizing more attendance to the game. Don't miss out on this additional revenue!
"With FEVOGM, OneBlood was given more time to prepare and add on tickets. The ability to offer multiple games and the ease of use were a huge part of being able to triple the size of this group year over year!"
- Nathan Burger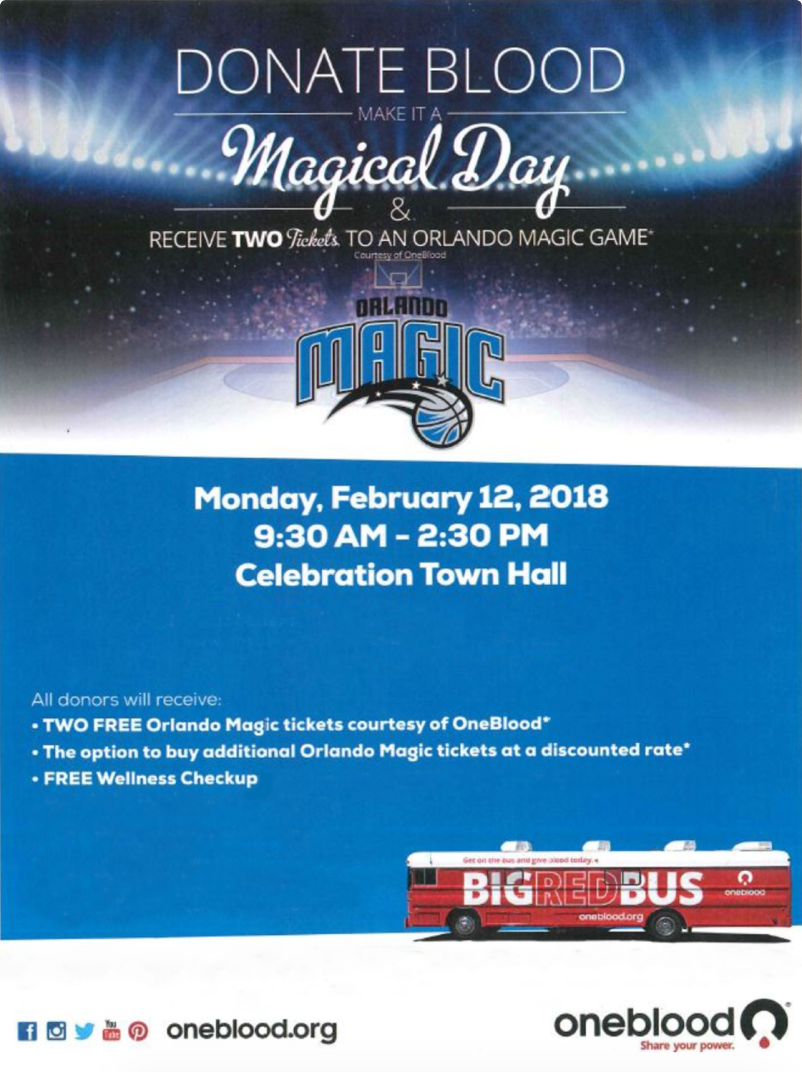 Follow-On Offer Yields Big Results
The Columbus Blue Jackets run a Ohio Education Association Appreciation Night every year, but for the 2017-2018 season they changed things up and saw great results. Their offer has been run through FEVOGM for the last few years in March, but this last season, the Blue Jackets moved the offer to December so that they could create a follow-on offer for later in the season.
After the annual Appreciation Night, the group leaders helped promote the follow-on offer to their members on social media and through their email list, while the Blue Jackets promoted to previous buyers and schools. They drove their promotion using FEVOGM' tools and data analytics, resulting in the follow-on offer to selling more than 10% of the tickets that the Appreciation Night did!
How it works
When setting up a new outing in FEVOGM, you can limit the seat availability based on your preferences. Then, you can choose which past outings you would like to promote your new outing to and share the outing page with their buyers and group members. It's also easy to add a special offer discounts on the bounce back offer to entice additional purchases!
"FEVOGM offers a user friendly platform both for the rep and consumer. Websites are easy to setup even with a complex offer such as Educator Appreciation Night. We've seen success in cross-sell opportunities because of the opt-in questions prompted at checkout. And seating inventory isn't overwhelming to manage because of built-in notifications to reps when availability is slim."
- Leah Cover - Sr. Group Event Specialist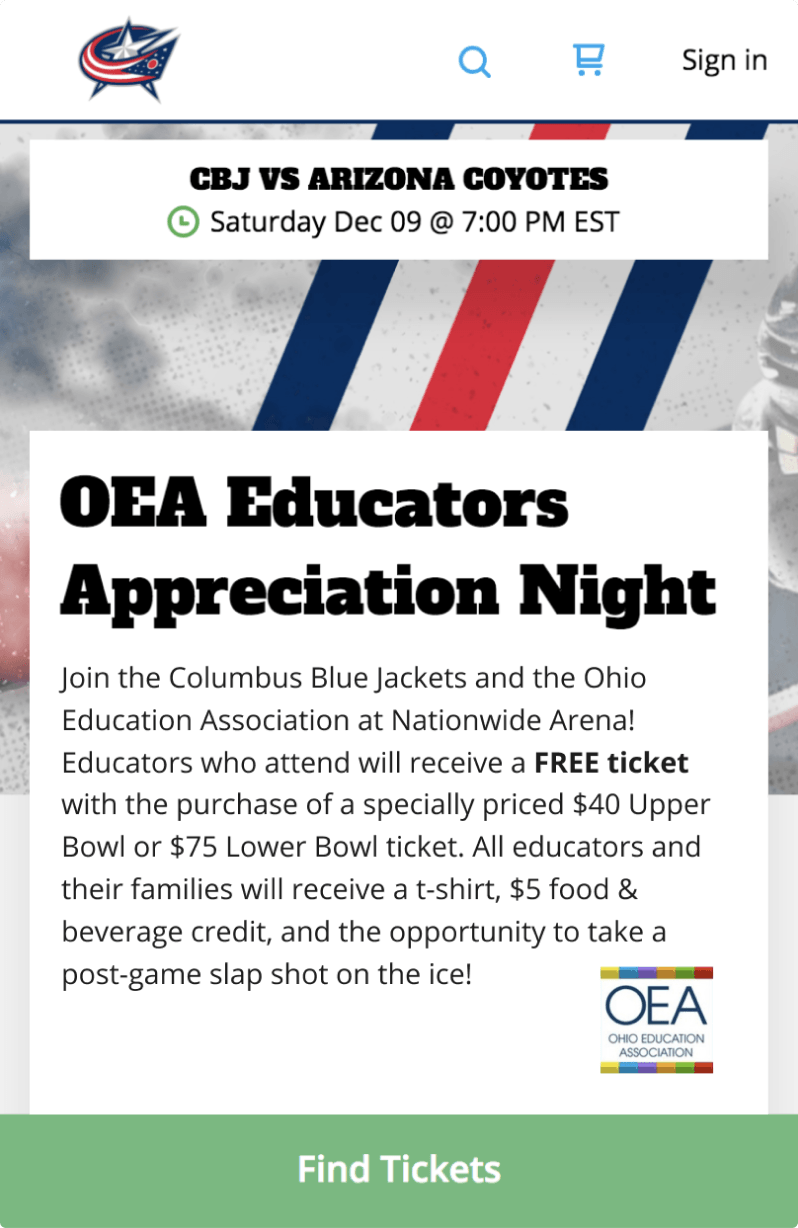 Digital Distribution Simplified
Major League Baseball is transitioning their commissioner's office and broadcast partners to digital tickets. While this might seem like a easy transition, the large number of tickets distributed for all 30 MLB teams complicates things greatly. FEVOGM' distribution platform centralized all 30 teams' tickets and their market segment tickets into one system. This streamlined a highly manual, week-long coordination process to only a few hours. Now the Special Events team at MLB can allocate to their different departments and track how those tickets are being shared with their partners, vendors and employees. The final recipients of the tickets are guided through the digital ticket process to access their tickets from the MLB Ballpark app.
How it works
All MLB teams provide tickets to the commissioner's office. These tickets are loaded into the FEVOGM Distribution platform and then the Special Events team can allocate or forward the tickets to the appropriate people. If tickets are un-forwarded prior to the game, users are alerted so that tickets don't go unused.
"FEVOGM quickly became a vital tool in converting Major League Baseball's Commissioner's Office to digital ticketing for 2017 Postseason. The FEVOGM team did a tremendous job of listening to MLB's unique way handling the events, and were able to develop their system to meet our needs under strict deadlines. Our work with FEVOGM is only growing, and they are helping ease the process for transitioning all of our users to the digital ticketing world."
- MLB Special Events Team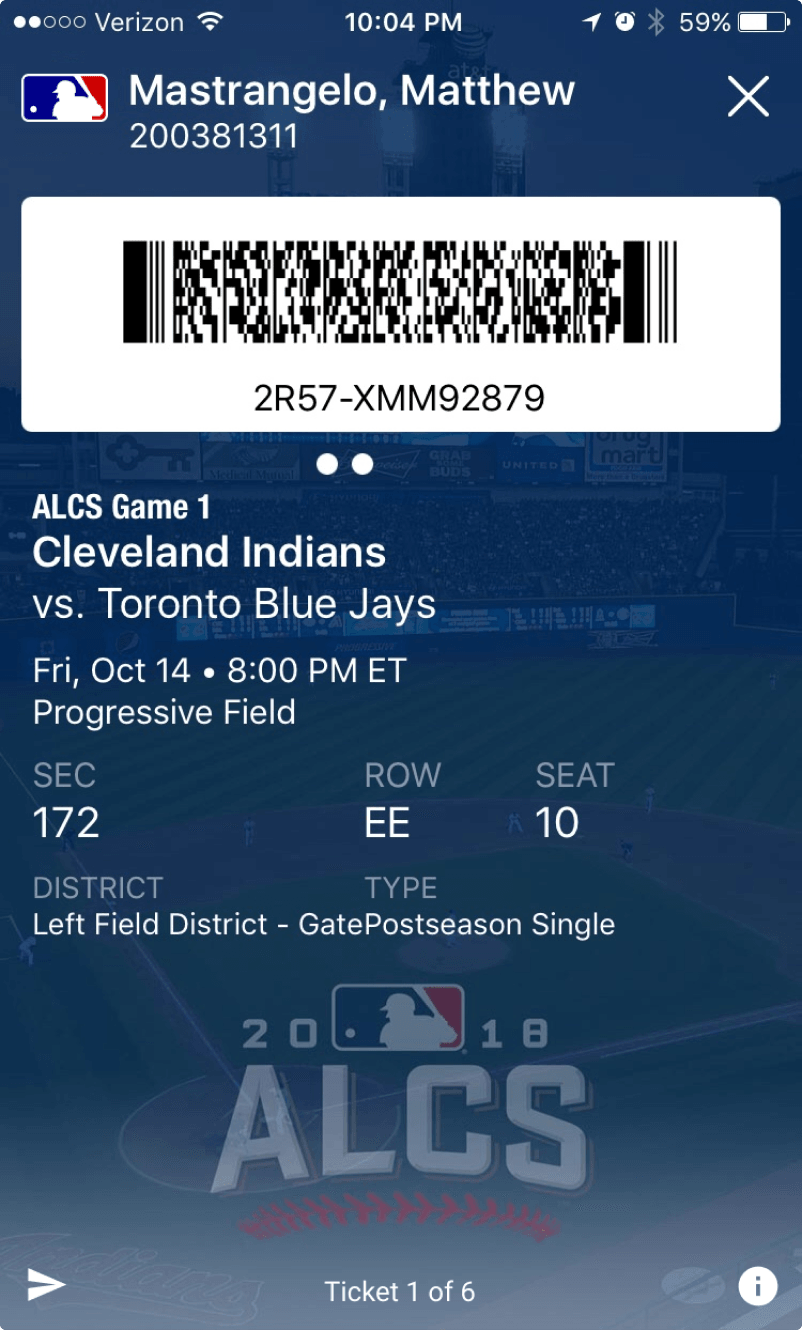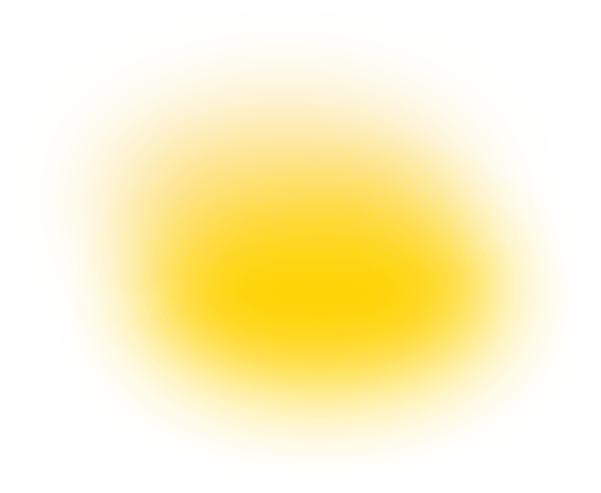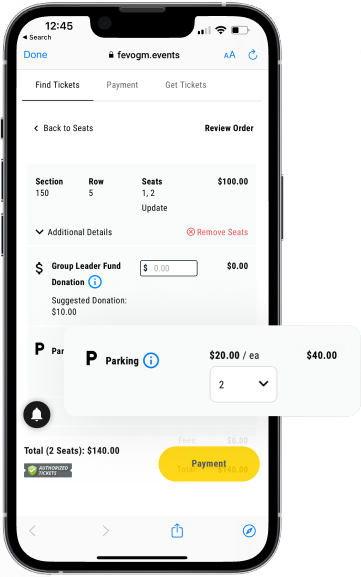 Increase Revenue
More ways to purchase tickets and optional add ons makes for a simpler purchase process
Not only does simplifying the purchase process help ticket sales, but including add ons such as loaded value and parking passes in the purchase flow makes it easy for your buyers to spend more. Buyers can also opt in to learning more about season passes and hosting their own groups when purchasing through FEVOGM, creating warm leads for your sales team.
With great social sharing features, your group leaders can promote their tickets to more people with one click.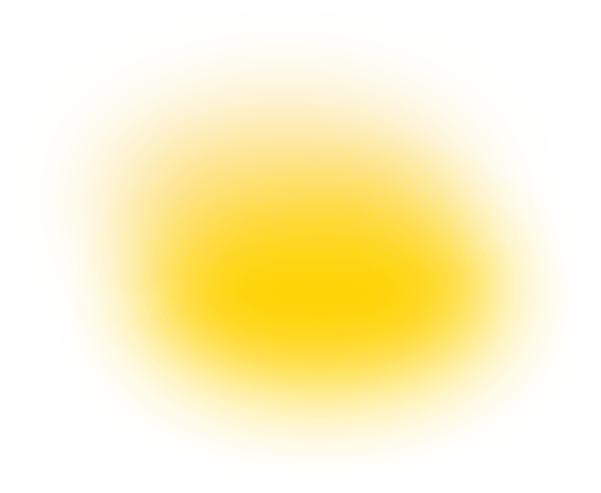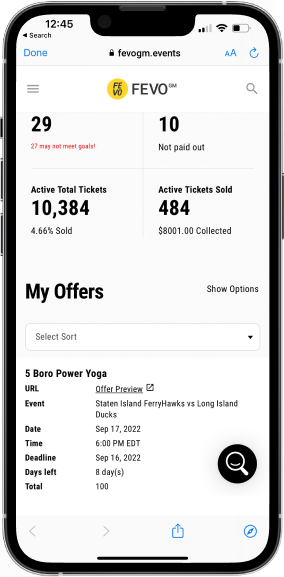 Increase Productivity
Cut the busy work and focus your time on what matters
Your sales reps will be able to manage more opportunities and relationships when using FEVOGM. They can keep an eye on inventory , have less orders to fill and no credit cards to run because all sales are automated online.
Our integrations allow your team to sell tickets from reservations or open inventory so you can manage your inventory, your way. You can even set deadlines and automatically switch from selling tickets on a reservation to open inventory.
After the deadline we automatically payout your groups. Splitting ticket sales for fundraiser groups also becomes a breeze.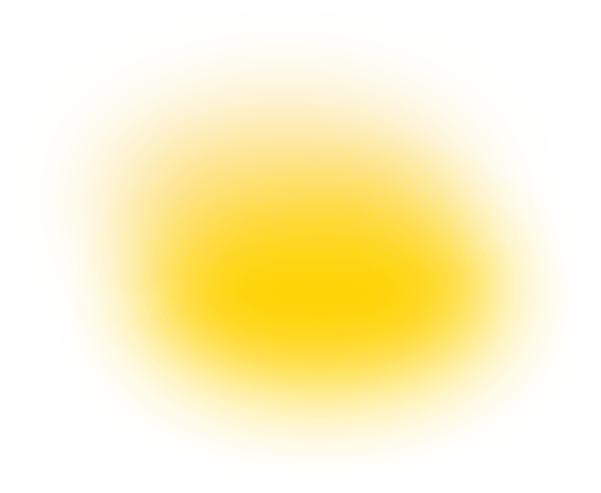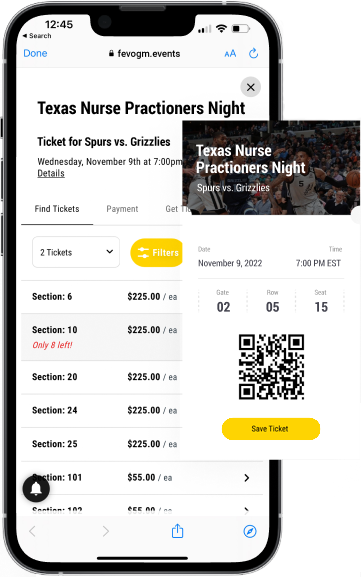 Transition to Digital
Go digital for all tickets
Group tickets are the last frontier for digital tickets. FEVOGM' solutions provide tools to turn every type of group ticket into a digital ticket.
With our industry leading integrations your buyers will receive their tickets instantly upon purchase. Our integrations don't delay in assigning tickets, avoiding wait and confusion for your ticket buyers. This is vital for customer satisfaction.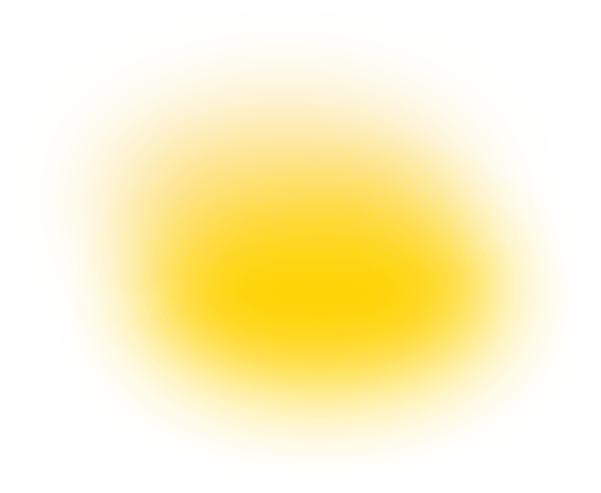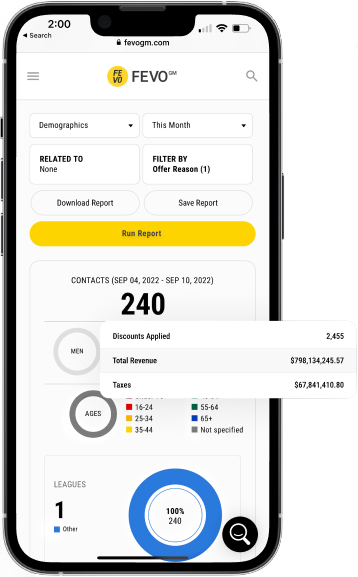 Gather More Data
With online purchases, you'll gather more buyer data and create new leads.
Get real time reporting on tickets sales and where traffic is coming from. Our data analytics software compares data across your groups, reps or seasons. Additionally, sales data can be shared with your CRM through our data API.
FEVOGM improves the typical 'contact to ticket' ratio of 1 to 75 to 1 contact for every 3 tickets sold. Our data analysis is proven to help your team sell more tickets.
partners
We work with the biggest ticketing providers in the industry:
We're committed to building tools for you and your customers
FEVOGM is a team of ticket industry experts and data-driven technology innovators working to create a world class company with industry leading software.
We're on a mission to make every group, special event or non-traditional offer easier to sell and manage while helping you create new revenue opportunities through the data we collect. Everyday we're focused on building better tools with our partners and their guests. Our software is always evolving through user testing, partner feedback and technology innovations.
We work with 200+ sports and entertainment organizations across the world.
LEARN MORE ABOUT US
Send us a message and we'll follow up!